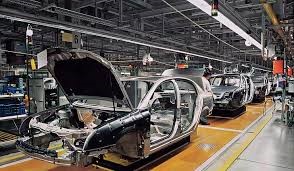 The automotive industry is a wide range of companies and organizations involved in the design, development, manufacturing, marketing, and selling of motor vehicles, some of them are called automakers. It is one of the world's most important economic sectors by revenue. The automotive industry does not include industries will be dedicated to the maintenance of automobiles following delivery to the end-user, such as automobile repair shops and motor fuel filling stations.
The Indian auto industry is one of the largest in the world. The industry accounts for 7.1 per cent of the country's Gross Domestic Product (GDP). The Two Wheelers segment with 81 per cent market share is the leader of the Indian Automobile market owing to a growing middle class and a young population. Moreover, the growing interest of the companies in exploring the rural markets further aided the growth of the sector. The overall Passenger Vehicle (PV) segment has 13 per cent market share.
India is also a prominent auto exporter and has strong export growth expectations for the near future. In April-March 2016, overall automobile exports grew by 1.91 per cent. PV, Commercial Vehicles (CV), and Two Wheelers (2W) registered a growth of 5.24 per cent, 16.97 per cent, and 0.97 per cent respectively in April-March 2016 over April-March 2015. * In addition, several initiatives by the Government of India and the major automobile players in the Indian market are expected to make India a leader in the 2W and Four-Wheeler (4W) market in the world by 2020.
Market Size
The sales of PVs, CVs and 2Ws grew by 9.17 per cent, 3.03 per cent and 8.29 per cent respectively, during the period April-January 2017.
The global automotive industry is undergoing unprecedented transformation. The growth and profit centers for automotive OEMs are gradually shifting to emerging markets. In order to stay profitable and competitive, automotive manufacturers and suppliers need to address the key challenges including rising product complexity, strict environment and safety regulations. They also have to gain deeper understanding of evolving needs for car connectivity, cost pressures and overcapacity while adapting to changing supply and demand needs. Consumer preferences, customer-influencing digital technologies, new digital retail formats and evolving role of dealers are also key game changers for the industry.

Magath's Automotive Group helps you address these major challenges and also supports you in your transformation journey for better profitability and increased competitiveness. We offer solutions and services across the entire automotive value chain including:
Product Development
Supply Chain Management
Manufacturing
Marketing and Sales
After Sales
Our services help you transform your business by improving business efficiency, agility and profitability. We also help you enter new markets, reduce costs, build better products, streamline your supply chain, enable efficient manufacturing, enhance your brand image, improve sales processes and build long-lasting customer relationships and loyalty.

We provide solutions and services to global automotive clients across worldwide. We have successfully executed many global projects in the previous years.