Infrastructure refers to the fundamental facilities and systems serving a country, city, or area.
including the services and facilities necessary for its economy to function
It typically characterizes technical structures such as roads, bridges, tunnels, water supply, sewers, electrical grids, telecommunications, and so forth, and can be defined as "the physical components of interrelated systems providing commodities and services essential to enable, sustain, or enhance societal living conditions.
Indian construction equipment revenues on an uptrend
By FY20, construction equipment industry's revenue is estimated to reach to US$ 5 billion.
Revenues increased at a CAGR of 8.38 per cent during FY07- 14 and is further estimated to rise at a CAGR of 2.34 per cent between FY07-20, owed to the rapid infrastructure development, undertaken by the Government of India.
In FY16, India construction equipment industry grew at a YoY of around 3.45 per cent over the previous year.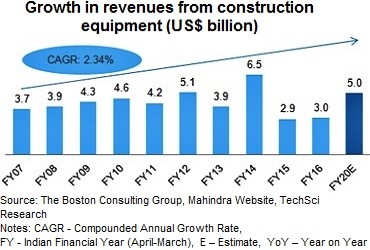 Introduction
Infrastructure sector is a key driver for the Indian economy. The sector is highly responsible for propelling India's overall development and enjoys intense focus from Government for initiating policies that would ensure time-bound creation of world class infrastructure in the country.
Enterprises increasingly look to their IT organizations to drive business growth. This forces CIOs to juggle between expectations for innovation, requirements for managing infrastructure, and the reality of limited resources. As companies feel the pinch in budgets, they try to stretch the value of their existing infrastructure and identify savings on IT expenditure. Most of the time, organizations spend precious budget dollars on running the business, leaving very little room for growth initiatives.
Delivering an efficient IT infrastructure
Magath has proven expertise in helping organizations reshape their IT infrastructure by aligning business objectives and maximizing value on investments. Magath infrastructure transformation consulting services offer:
Service transformation: focused on implementing the ITIL framework through process optimization and leveraging best- of- breed ITSM tools and platforms to drive unified IT operations
Data center transformation: led by a consulting- based approach for developing next- generation data centers that are responsive to business requirements.
Security transformation: focused on compliance, governance, and controls derived from various standards, and policies.
Workplace transformation: focused on providing solutions by leveraging emerging technologies to maximize efficiency, agility, and flexibility